MUELLER 'SPORT CARE' SHOP

CHECK OUT THESE BRACES, SLEEVES, STABILIZERS, AND MORE TO GET YOU BACK IN THE GAME!

KNEE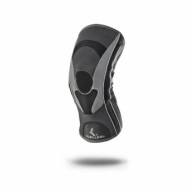 HG80 HINGED KNEE BRACE
$64.99
- Extremely comfortable fabric with maximum medial-lateral support to help protect weak or injured knees.
- The Hg80 Hinged Knee Brace is simply the most comfortable brace you'll wear.
- The Mueller-exclusive HydraCinn fabric is a high-performance, moisture-wicking material with an anti-microbial barrier.
- Latex free, neoprene free.
- Recommended to help control sublaxating patellas and to relieve pain associated with Chondromalacia (irritated kneecap).
- Mesh carry bag included that can protect clothing and keeps brace separate so your gym bag stays organized.

---
ANKLE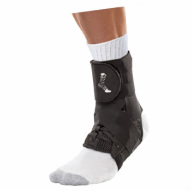 THE "ONE" ANKLE BRACE
$39.99
- Anti-slip side straps help protect against inversion and eversion ankle sprains.
- Top elastic finishing straps provide a clean finish.
- Side-pulling stirrup straps imitate the effects of taping.
- Adjustable straps to fix at any time to help prevent brace slippage ensuring a tight, comfortable fit and long-lasting support.


---
BACK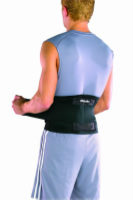 ADJUSTABLE BACK BRACE
$27.99
- Tapered cut for a custom fit with firm lumbar support to help relieve back pain.
- Lightweight elastic bands and flexible springs conform to the anatomical structure of your back.
- Recommended for back strains and sprains, moderate disc and arthritic conditions, sciatica, muscle spasms, chronic unstable lumbar spine, and strains of sacroiliac area.


---
FACE


NOSE GUARD
$39.99
- Face shield is constructed from high impact, clear plastic for full vision.
- This guard allows user to remain active by helping to protect and support injured noses.
- Recommended for basketball, wrestling, karate, baseball, soccer, and other sports where helmet with face mask is not required.

---
WRIST

CARPAL TUNNEL WRIST STABILIZER
$17.99
- Two adjustable straps for a custom fit.
- Breathable fabric for comfortable all-day wear.
- Extra long 6.5-inch spoon and two side splints provide rigid support.
- Padding around spoon adds extra comfort.
- Fits left or right.
---
THUMB


REVERSIBLE THUMB STABILIZER
$16.99
- Adjustable metal splint.
- Shock absorbing foam at base of thumb for comfortable fit.
- Extra-long thumb strap can be fastened around top or along base of thumb for added stability.

---
ELBOW

TENNIS ELBOW SUPPORT W/ GEL PAD
$12.99
- Provides excellent pain relief caused from any activity involving strain on the forearm and elbow.
- Lightweight, durable, and comfortable for all-day wear.


---

TENNIS ELBOW SUPPORT
$12.99
- Excellent for gardening, golf and bowling.
- Great for tennis and all activities involving strain of forearm muscles.
- Lightweight durable and comfortable for all-day wear.

---

ELBOW SLEEVE
$11.99
-Soothing warmth to help promote healing and flexibility with neoprene.
- Recommended for stiff, weak, or injured elbow.


---

ELBOW PERFORMANCE SLEEVE
$19.99
- Lightweight and comfortable sleeve for active people.
- Designed to stretch and contour to your specific arm shape.
- Recommended for any activity: running, biking, basketball, baseball, or golf.


---